Naturgy Foundation is offering an innovative virtual journey in Tarragona as part of a project aimed at raising awareness of the planet's environmental challenges, energy transition and the circular economy.
The new Energy Challenge travelling learning project is making its second stop in Catalonia, immediately after its launch as part of COP 25 held in Madrid.
Jordi Fortuny, Councillor for Economic Services, Central and Personal Services visited today and, throughout the week, visits from the city's educational centres are also planned.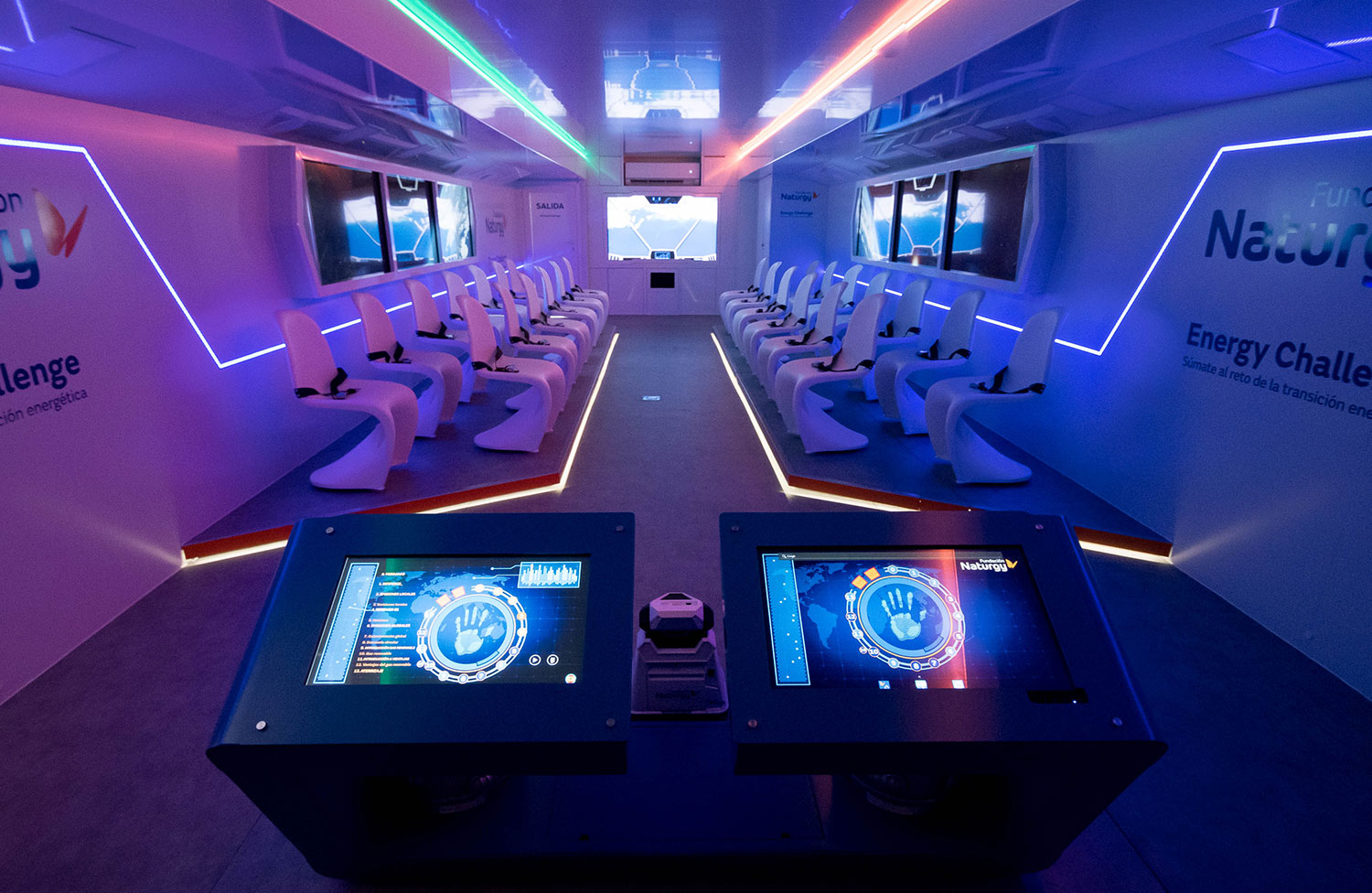 This week in Tarragona, the Naturgy Foundation is presenting Energy Challenge, a travelling and innovative experience bringing young people and the general public up-to-date information about energy transition, the circular economy, air quality and new energy technologies.
Touch screens with 360º projection of hundreds of videos, revolving seats and a smart robot called Energy 360 are just some of the technologies used in the Energy Challenge experience, which is in the city and available to visit for free until Friday.
Jordi Fortuny, Councillor for Economic Services, Central and Personal Services, visited the experience today and described Energy Challenge as 'a fascinating experience from an educational point of view, not only for young people, but also for the rest of the population'. Fortuny added that we must educate ourselves because the concept of the circular economy is this decade's challenge. Materials are not infinite and they need to be given new value, which is a process that also requires energy.
Today, pupils from the Dominiques and César August schools in Tarragona are also taking part in a space trip. For the rest of the week, other centres such as the Pons d'Icart state secondary school, the Escola Mediterrani state secondary school, the Joan XXIII primary school and the IES Sant Pere i Sant Pau secondary school, among others, are expected to visit Energy Challenge.
This immersive experience can be visited in the city from 20 to 24 January, 9am-2pm and 4pm-7pm at Rambla President Lluís Companys, 7.
A futuristic airship with suggestions on how to solve the energy challenge.
Visitors are invited to take a special journey in a futuristic airship commanded by latest generation robots. They will form part of a space mission to solve today's energy challenge at a time of transition towards decarbonisation.
On their 20-minute journey, crew members observe the Earth and the Cosmos to reflect and gain awareness of the climate emergency the planet is facing and the need to contribute to issues of major importance, such as the circular economy, air quality and new energy technologies.
The initiative shows the key role of innovation and responsible consumer habits in working towards the United Nations Sustainable Development Goals (SDGs) in relation to energy.
The Naturgy Foundation has put together this experience in an environmentally-friendly, 70 m2 vehicle, which has a dual natural gas engine. As it travels, it generates 15-20% less CO2 emissions compared to conventional diesel engines. It also contributes to improving air quality, reducing emissions of particles by 39% and NOx emissions by 30% compared to a vehicle that uses only diesel.
The Director of the Naturgy Foundation, María Eugenia Coronado, defines the new project as a 'disruptive initiative to explain the planet's environmental challenge'. 'The whole population must be made aware of the challenges we are facing. It is in our hands alone to reverse climate change', she states. This is why 'initiatives like Energy Challenge, which is travelling around Spain, can contribute to informing the population and explaining that there are new energy sources, such as renewable gas, that may contribute to the circular economy and energy transition becoming a reality', says Coronado.
Energy Challenge, which was launched in Madrid as part of COP 25, plans to cover 4,800 kilometres and will visit around 40 towns and cities in Catalonia, the Community of Madrid, Castile and León, Castile La Mancha, Galicia, Andalusia and the Valencian Community. The aim is to reach 100,000 visits by the end of 2020.
The Energy Challenge experience is accompanied by another educational resource from the Foundation, The Circular Challenge, an interactive competition on renewable gas production and the circular economy, which will be set up next to the efficient vehicle at all the stops it makes.