The Naturgy Foundation and Cáritas join forces with ECODES and other entities in the construction and rehabilitation sectors to educate unemployed people about energy efficiency and how to save in their homes
The educational activity is aimed at unemployed people with prior experience in the construction industry and aims to service vulnerable homes.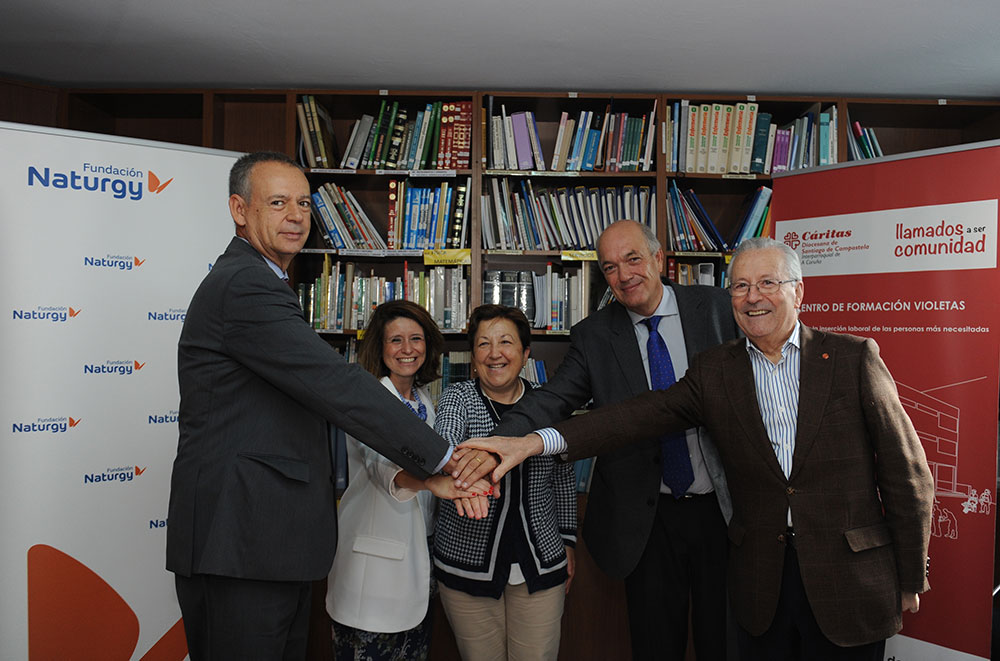 Today, the Naturgy Foundation, Cáritas Diocesana de Santiago – Interparroquial A Coruña, the National Association of Renovation and Rehabilitation Companies (ANERR) and the Ecology and Development Foundation (ECODES) signed a partnership agreement to develop a training project for unemployed people to show them about energy efficiency and how to save money in the home.
This took place this morning in the Cáritas Violetas Training Centre in A Coruña. It was attended by the Director of Cáritas Interparroquial, Pila Farjas, the General Delegate of Naturgy in Galicia, Manuel Fernández Pellicer, the Sustainable Cities Area Director of ECODES, Cecilia Foronda, and the Chairman of ANERR, Fernando Prieto.
The training event is aimed at unemployed people, preferably with previous experience in the construction industry and contains 200 hours of practical and theoretical activities. The aim of the project is to generate a new professional profile to help vulnerable homes that combines multi-disciplinary knowledge of energy rehabilitation, optimisation of energy contracts and training in efficient consumption habits.
When the training has been completed, the participants will have the opportunity to put their acquired knowledge into practice in vulnerable homes selected by Cáritas. Here they will be able to apply the contract optimisation, energy rehabilitation and recommended habits measures that they have learnt throughout the course.