The use of natural gas in urban transport improves air quality and makes way for improved economic and sustainable urban mobility
At a seminar organised by the Gas Natural Fenosa Foundation at Riojaforum in partnership with the Regional Government of La Rioja, various experts examined the advantages and experiences of using natural gas in urban transport, waste collection and delivery vehicle fleets.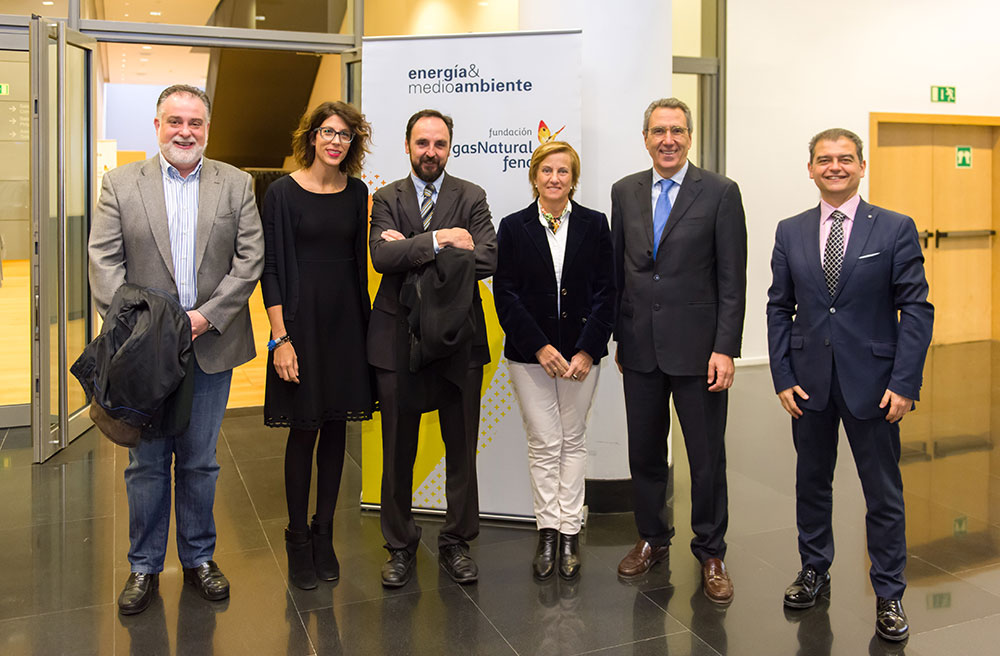 Earlier today in Logroño, the Councillor for Economic Development and Innovation of the Regional Government of La Rioja, Leonor González Menorca, and the General Manager of the Gas Natural Fenosa Foundation, Martí Solà, officially opened the seminar entitled Natural Gas in Transportation: environmental and economic benefits. At the event, which was attended by around 100 professionals, various experts examined the need to improve air quality in cities and the environmental and economic benefits to be obtained by replacing other fuels with natural gas in urban traffic.
Given that road traffic is the cause of over 65% of urban pollution, transportation is one of the areas where the implementation of natural gas could have a huge beneficial effect on air quality in cities.
In this regard, the Director of the University Institute for Automotive Research managed under the Polytechnic University of Madrid, José María López, explained the strong regulatory requirements such as Euro 6 that have managed to reduce nitrous oxide emissions by 90% and seek to reduce particulate emissions by 99%. In this regard, the use of natural gas enables greater progress to be gained in terms of reducing NOx emissions and completely eliminates suspended particulates. Furthermore, he stressed that natural gas has a higher octane rating and performance, lower CO2 emissions, enables energy sources in transport to be diversified with a fuel of which there are large reserves and also offers an engine noise reduction.
An economic saving of 50% compared with petrol
From the Mobility Department of GAS NATURAL FENOSA, Benito Páramo explained how natural gas is being used in transport, what type of refuelling stations supply it and highlighted the savings that can be obtained depending on the type of vehicle and fuel being replaced. When compared with diesel, the economic saving varies between 25% and 30%, while natural gas vehicles offers savings of 50% when compared with petrol.
He added that, when following a series of standard consumption guidelines, investment in a natural gas car can be recouped in under one year. In the case of lorries, the investment can be recouped between one and two and a half years, depending on the model and horsepower. When talking about urban buses, which travel an average of 55,000 kilometres per year, a saving of 36% has been calculated when compared with diesel models; in other words, a cost reduction of 13,100 euros/year per bus. In waste collection vehicles, as well as substantially reducing noise as natural gas engines are quieter, a saving of around 5,000 euros per truck can be made – 22.5% less.
The Institutional Relations Representative from SEAT, Ramón Calderón, examined the experience by this motor vehicle manufacturer in the use of natural gas and the various models available. He said, "the company is firmly committed to the development of compressed natural gas (CNG) as an alternative fuel: CNG technology, already consolidated, offers drivers the chance to choose an alternative propulsion source until electric cars finally arrive, which will co-exist alongside the latter due to its renewable potential." SEAT currently has hybrid compressed natural gas and petrol technology in its Leon model (both the 5-door and saloon versions), the Mii model and the Ibiza model. These will be joined in 2018 by the new Crossover Arona.
Innovative experiences at four companies and entities
A round table discussion then took place from a user perspective on the experience of this fuel at various types of companies, including the Madrid Municipal Transport Company, the SEUR delivery company and the road haulage company Transportes Vicuña. Experiences with all sorts of vehicles were also presented by the Basque Energy Agency. Juan Angel Terrón, from the Madrid Municipal Transport Company, said that Madrid has a fleet of 2,040 buses that travel 95 million kilometres/year to carry 414 million passengers. According to data, the use of compressed natural gas (CNG) has led to an 83% reduction in pollution since 1994. He stressed that, "nowadays, natural gas is the only real alternative to diesel" until urban electro-mobility can be achieved in the long term.
The Corporate Social Responsibility Manager from SEUR, May López, expressed the company's commitment to ensuring that all 350,000 deliveries daily are carbon neutral without that imposing additional costs on customers. To do so, the company measures the carbon footprint from its activity according to recognised standards that are verified externally, reduces its emissions to make 100 million carbon-neutral deliveries every year, and offsets the rest of the emissions it produces. Its current goal is to reach 300,000 carbon-free deliveries daily.
The event was closed by the Mayor of Logroño, Cuca Gamarra, alongside the Director of the Gas Natural Fenosa Foundation, Martí Solà. The mayor stressed that the city has implemented a Smart City strategy that includes a commitment to progressing towards more sustainable mobility and said that each urban bus renewal operation –such as the operation presented recently and affecting 20% of the fleet– takes more steps towards that goal.