We took part in the 2019 Inspirational Festival
On 8 April the Naturgy Foundation and Pepe the robot took part in the 2019 Inspirational Festival, organised by IAB Spain and held at the Círculo de Bellas Artes in Madrid, to convey the company's commitment to innovation and show how atmospheric pollution is a key factor in determining the health of people and the environment.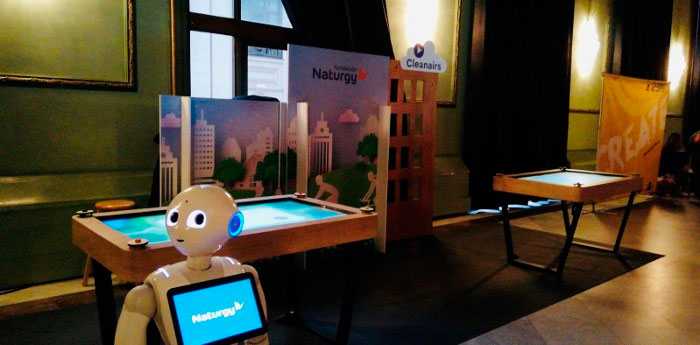 More specifically, the Foundation collaborated with the festival by demonstrating the multimedia game called Cleanairs, which challenges participants to come up with actions that help to improve the city's air quality based on four hypothetical council departments represented on an interactive table.
During each game, players accepted the challenge of promoting public policy on energy, urban planning, mobility, cleaning and waste management. The ideas generated were projected on screens in real time, so the different options that participants put forward could be compared and the consequences of the decisions taken by each team could be assessed.
The Inspirational Festival encourages the development of advertising, marketing and digital communication in Spain by recognising the quality and excellence of the work done in that industry and letting people know about the success cases, trends and new business opportunities in the sector at first hand.