Enjoy an immersive experience with the Naturgy Foundation that proposes tackling the future energy challenge.
The 70 m2 of this mobile space house an enveloping and immersive proposal that will offer visitors an experience that seeks to convey specialised technical knowledge about energy, such as the new energy technologies, the energy transition, the circular economy and air quality. Furthermore, the initiative reveals the key role played by innovation and responsible consumption habits in overcoming the challenges agreed under the United Nations Sustainable Development Goals (SDGs) on energy.
Energy Challenge proposes a space trip in a futurist craft piloted by next-gen robots. Visitors are invited to form part of a special mission aimed at resolving the energy challenge as an essential ingredient for the development of society (the "energy challenge"). The ship's crew will observe the Earth and the cosmos to reflect and raise their awareness about the emergency situation on our planet and the need to contribute to issues of fundamental importance for humanity, such as the energy transition, the circular economy, air quality and the new energy technologies, including renewable gas. In turn, groups of schoolchildren will complement the space trip with a game entitled The Circular Challenge about the circular economy and energy consumption.
To guarantee the eco-efficient goals of this mission, the Energy Challenge truck is fitted with a natural gas-powered twin engine that produces between 15% and 20% less CO2 emissions than conventional diesel engines. Based on a dual system and a fuel consumption of approximately 70% diesel and 30% compressed natural gas, the vehicle helps to improve air quality by reducing particulate emissions by 39% and NOx emissions by 30% when compared with a diesel-only vehicle.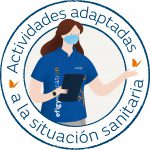 The Energy Challenge truck is fitted with a natural gas-powered twin engine that produces between 15% and 20% less CO2 emissions