For the third year in a row, the Naturgy Foundation has renewed its collaboration agreement with Caritas to continue guaranteeing access to energy for thousands of vulnerable families
The energy company's foundation has carried out over 600 rehabilitations that have benefited 15,000 people, and the Energy School has offered training on energy efficiency to vulnerable households that are receiving help from Cáritas.
A unique initiative will be developed in Ávila as part of this new agreement, bringing together renewable power generation and the improvement of vulnerable people's employability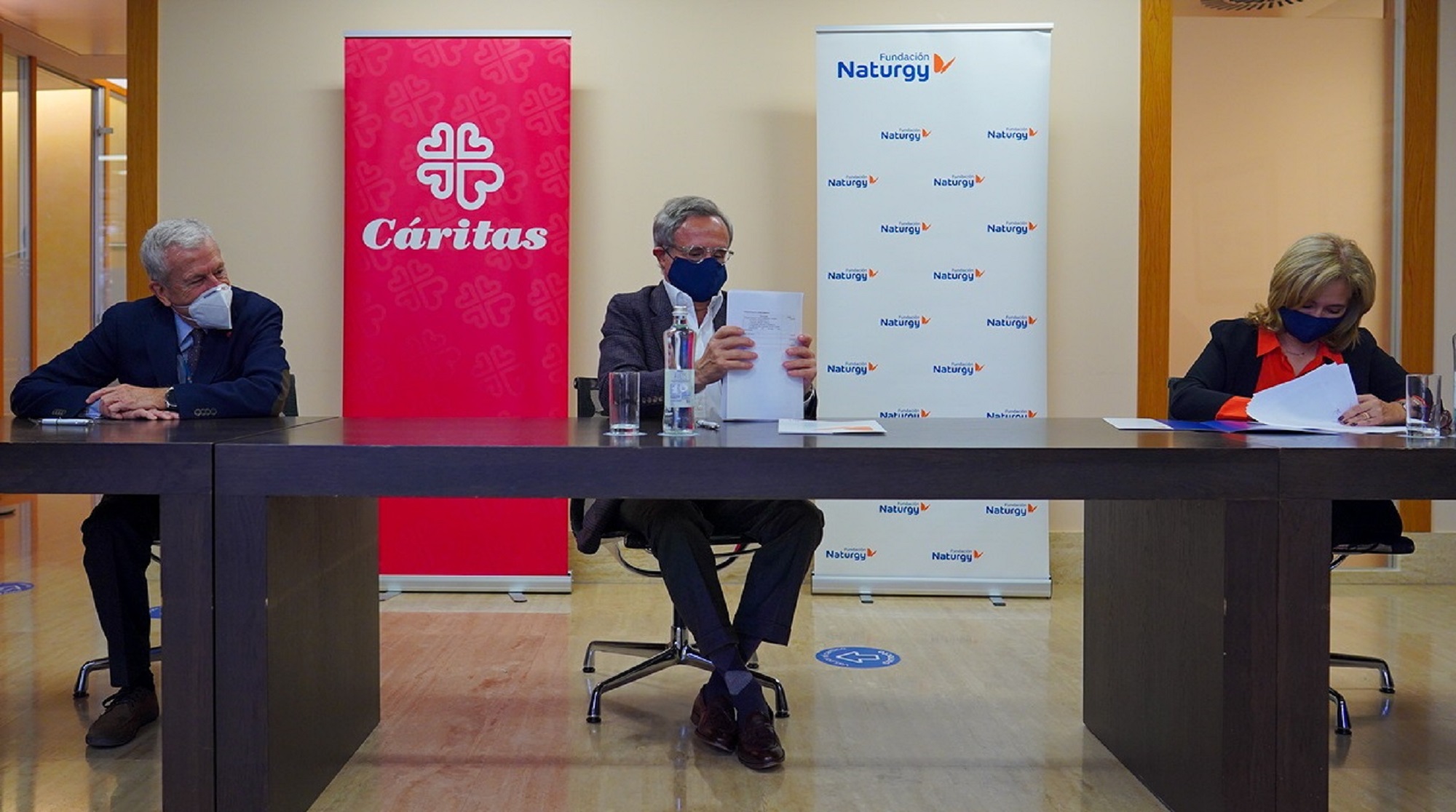 Today in Madrid, the Chairman of the Naturgy Foundation, Rafael Villaseca; the Chairman of Cáritas Española, Manuel Bretón; and the Managing Director of the Naturgy Foundation, María Eugenia Coronado renewed their collaboration agreement for the third year in a row. This agreement guarantees access to energy for 15,000 vulnerable people receiving help from Cáritas.
Since collaboration began in 2017, the foundation has performed more than 600 interventions in homes and Cáritas reception centres thanks to the Energy Rehabilitation Solidarity Fund. The goal is to rehabilitate another 130 homes over the coming year.
The interventions will be performed in homes selected by Cáritas that require improvements to the electrical installation, the repair or purchase of heating and/or cooling systems, and improvements to the insulation and enclosure, as well as any other measures that can make the homes of vulnerable families receiving help from this social entity more energy efficient.
Bretón welcomed "the strengthening of this collaboration with Naturgy by signing the agreement for the third year in a row, which will guarantee that many families receiving help from Cáritas have access to energy and improve the living conditions in their homes". "This commitment is even more valuable in our current situation, when so many people find themselves in a seriously precarious situation as a result of the social and economic impact of the COVID-19 pandemic", he stated.
Villaseca highlighted "the importance of working in coordination not only with government bodies, but also with social organisations, which are fully aware of the daily situation faced by families that are suffering, in a particularly complicated time due to the effects of the COVID-19 pandemic".
Furthermore, through the Energy School, the energy company's foundation will continue to advise vulnerable families in order to help them manage their energy bills optimally and learn efficient consumption habits. The aim of these workshops is to empower people, offering measures and advice in practical and demonstrative sessions.
On top of all these actions, we also have the collaboration of Naturgy volunteers, who offer energy advice to vulnerable families.
Unique and pioneering project to help vulnerable people
In addition to continuing projects that alleviate energy poverty, next year will see the launch of a unique initiative in the framework of this agreement that will unite renewable energy generation using solar panels with the fight against energy poverty and the improvement of vulnerable people's employability.
This social innovation project will be developed in a building belonging to the Ávila diocese Cáritas organisation in this city of the Castile and León region, where other energy-related interventions have been carried out in recent years thanks to the support of the Naturgy Foundation.
In addition to reducing the building's environmental impact and making it more energy efficient, the installation of solar panels will also reduce consumption costs and the savings can be used to help meet the essential needs of families and people that participate in Cáritas programmes.
Moreover, the management and sale of any surplus power produced will also be used to co-fund projects that help people find decent employment.
This project will benefit more than 1,200 people helped by Cáritas in the building, which has three floors and a social store, and where it develops its employment programme.
Caritas
The aim of Caritas Española is to carry out charitable and social actions on behalf of the Catholic Church in Spain, through the Christian community, in order to promote and coordinate Christian communication of goods in all their forms, and to help the human promotion and holistic development of all people. To this end, it promotes, encourages and coordinates initiatives relating to welfare, the holistic promotion of the individual and prophetic denunciation. Its national network includes 6,000 parish Cáritas organisations, 70 diocese Cáritas organisations and the corresponding regional or autonomic Cáritas organisations.
Cáritas' work to eradicate poverty also has a strong international dimension, which operates through 164 national Cáritas organisations in over 200 countries and territories worldwide. Together, they form the Cáritas international network, which has its headquarters in Rome. The commitment of Cáritas Española to marginalised citizens is supported by the work of 81,000 volunteers and 5,600 paid employees. Over the past year, Cáritas Española invested more than 337 million euros in actions to fight against poverty, which benefited around 2.4 million vulnerable people in both Spain and southern countries.
Naturgy Foundation
The Naturgy Foundation carries out all of the projects linked to Naturgy's Vulnerability Plan, which is the first to be developed by a Spanish energy company. This programme includes more than 20 operative and social measures that aim to strengthen and systematise the management of vulnerable customers and support collaboration with third-sector entities, in addition to communication with social services.
The foundation, which was created by the energy company in 1992, also aims to communicate and provide training and information on matters related to energy, technology and the environment, based on serious and rigorous debate and with awareness programmes for youngsters.