Gas Natural Fenosa Foundation works with Girona City Council on energy assessments for the vulnerable
This agreement forms part of the actions promoted by Gas Natural Fenosa through its foundation to improve the management of vulnerable households and help social services and community sector entities in their work with people in this situation.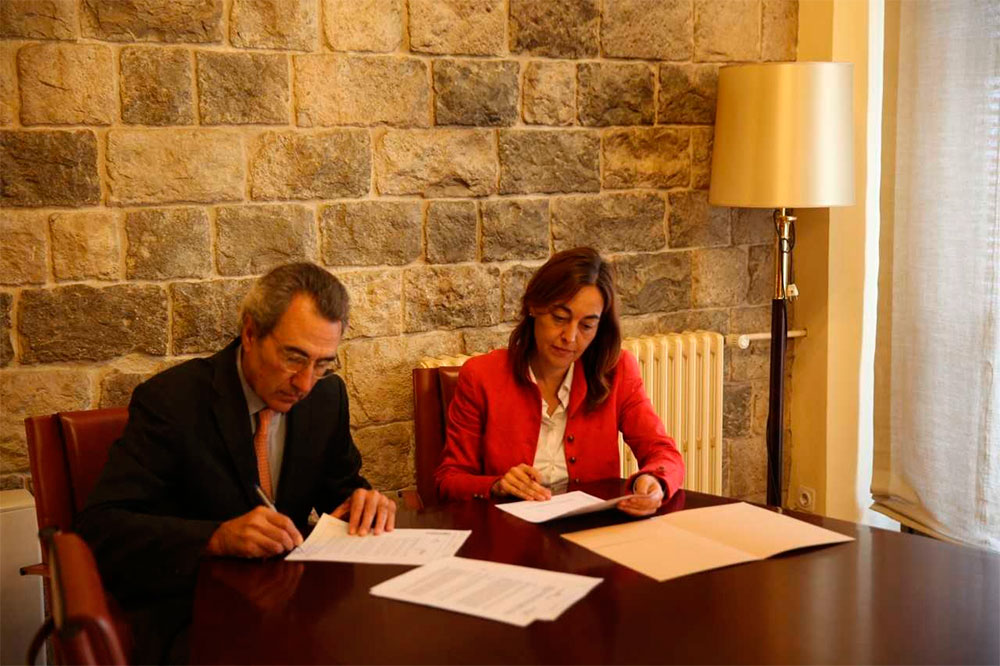 The Councillor for Social Services, Housing and Safety at Girona City Council, Sílvia Paneque, and the General Manager of the Gas Natural Fenosa Foundation, Martí Solà, have signed a partnership agreement to conduct energy assessments on vulnerable groups living in the city of Girona as part of the work undertaken by the City Council.
"We provide advice to households in a situation of vulnerability and to the City Council's social workers at our Energy School – a roaming education centre that offers free sessions to teach people about best practices and provide advice on energy efficiency and saving that will help them lower the energy bill for their homes, as well as information on how to optimise energy spending, the financial help available to them, etc.," explained the General Manager of the Gas Natural Fenosa Foundation, Martí Solà.
In turn, through the Municipal Energy Efficiency Department, Girona City Council will provide information to users on the tax credit schemes and discounts available for each item of their bill, and will help users apply for any financial help to which they may be entitled. It will also tell users about the chance to conduct a review of their bill or domestic installations in order to optimise energy consumption.
"Signing this agreement will give us more training and information resources for informing all service users and therefore help consumption habits, bill knowledge and the implementation of measures leading to energy consumption optimisation and the reduction of people's bills," explained the First Deputy Mayor, Sílvia Paneque.
The Gas Natural Fenosa Foundation Energy School
The Gas Natural Fenosa Foundation Energy School seeks to advise and train vulnerable households, employees of community sector entities and staff of municipal social services about energy efficiency in order to reduce the impact on society of energy vulnerability. The centre is expected to travel around the region and train over 2,000 people every year thanks to a schedule of over 60 seminars and 50 workshops per year.
Its training programme also seeks to foster the understanding and supervision of energy consumption in households, provide them with tools and material that make implementing efficient practices in the households where they are most needed more viable, and offer advice on energy bills and how to bring them down.
"This project is inspired by the solutions model being applied in such countries as Austria, Belgium and Hungary to alleviate energy poverty. It has been highly successful in those countries and we hope that will be the case here too," said Martí Solà.
Gas Natural Fenosa offers solutions to energy vulnerability
The Gas Natural Fenosa Energy Vulnerability Plan is the first such plan to be developed by a Spanish power company and contains over 20 measures of both operational and social characteristics aimed at strengthening and systemising the management of vulnerable customers and enhancing collaboration with community sector entities and communication with social services. In all, it represents an investment of €4.5 million per year.
Gas Natural Fenosa has already signed over 400 agreements with the authorities to protect vulnerable people, covering over 95% of the population. These agreements and the Energy Vulnerability Plan have avoided power supplies being cut off to 24,000 people.
The Vulnerability Services Department answers all calls made to the 24/7 freephone number set up by the company for vulnerable customers (900 724 900). The company has also increased the flexibility of its debt repayment system, offering customers the option to pay their bills in instalments that best suit their situation, with no down payment and no interest whatsoever.