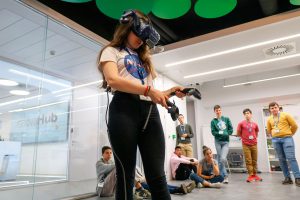 Last week, a total of 21 students attended talks about different business areas and the corporation in order to learn first-hand about the tasks that are performed and the professional profiles that are required in a multi-national such as Naturgy.
The children learnt first-hand about the company's transformation within the energy transition, as well as the strategic lines of innovation.
On the last day, the students visited the Bolarque Museum in the province of Guadalajara, where they discovered the history of the company, as well as the social and educational action carried out by the Foundation.
This initiative from the Madrid government aims to bring the educational system and the working world closer to the students through educational internships in companies and institutions. It involves an obligatory activity that encourages young students to be better prepared for making decisions about their academic and professional future.
This year, the students came from five educational centres: Rafaela Ybarra, Fuentelarreyna and Gamo Diana, in Madrid; Arula, in Alalpardo; and Arenales, in Arroyomolinos.