The Naturgy Foundation announces the winners of the first 'Prize for Best Social Energy Initiative' and recognises the work of social organisations in their fight against energy vulnerability.
Today, the Naturgy Foundation announced the winners of the first edition of the Prize for Best Social Energy Initiative which aims to raise the profile of people, organisations and institutions that stand out in the social sector for their energy-related projects.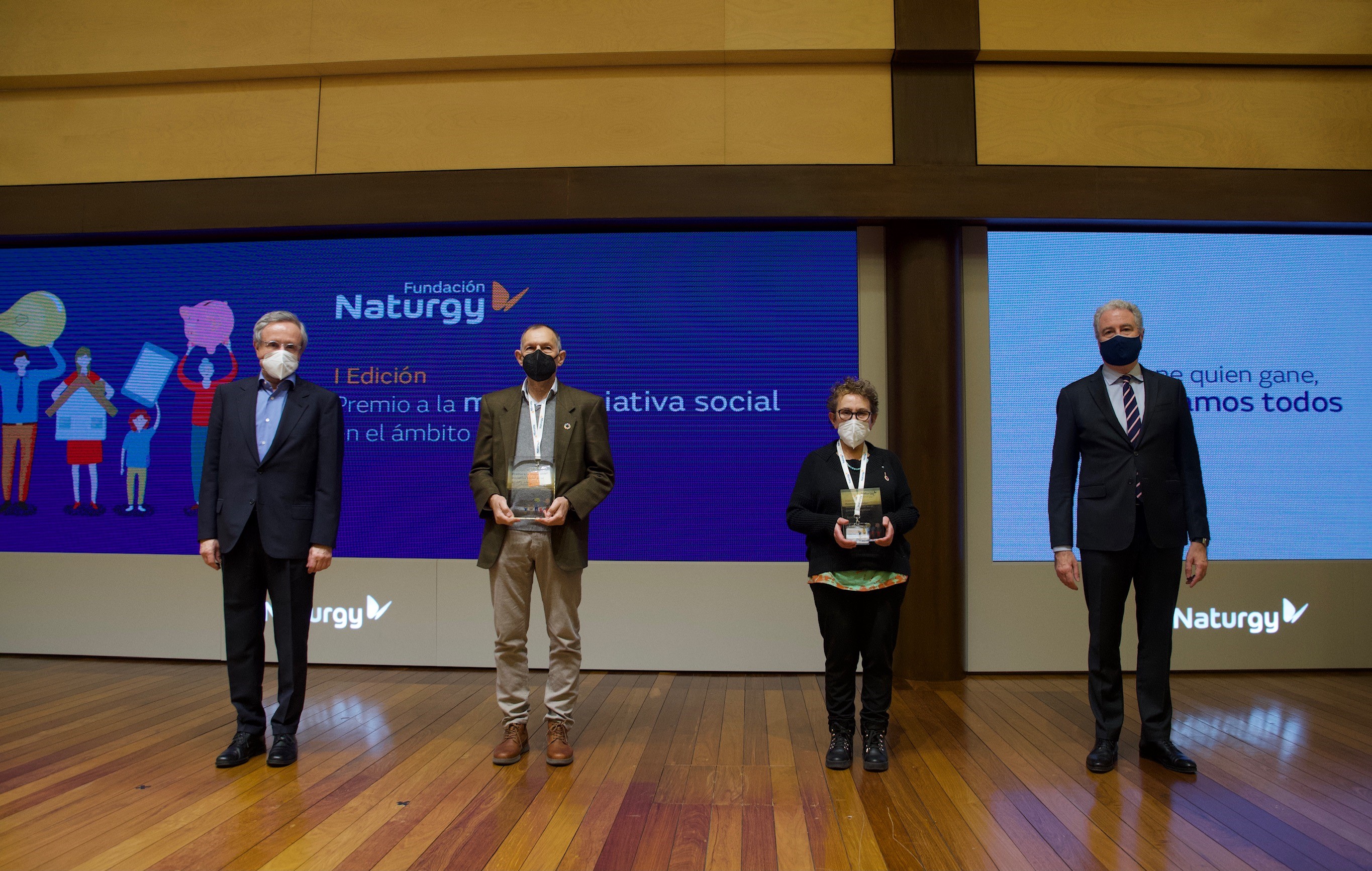 In this first edition, the award winning organisations and projects were the No home without energy initiative from the Ecology and Development Foundation (Ecodes), which took first prize, and the Family Finances and Energy Poverty Education project from the Isadora Duncan Single-Parent Families Foundation.
During the award ceremony, the Naturgy Foundation chairman, Rafael Villaseca, stated that the entries submitted for the first edition "prove an undeniable reality, that together we can work and implement innovative and realistic ideas, each one with their resources and tools, that help us fix situations of vulnerability."
In total, some 90 initiatives, whose projects helped more than three million people in Spain, were submitted for this prize, which grants €60,000 to the winner to support their projects and €30,000 to the runner-up.
The Naturgy Foundation is scheduled to open a second call tomorrow for educational, vulnerability, entrepreneurship, employment, social inclusion, health, environmental, circular economy and social innovation projects related to energy.
The Foundation's chairman said that "in our daily work to alleviate energy vulnerability, we've found there are many organisations that collaborate to mitigate this problem with very valuable initiatives. That's what gave us the idea for this prize."
Villaseca highlighted the "success of the call, which perfectly aligns with the Foundation's social goals" and noted that "the pandemic has left its mark on 2020, so I'm convinced that a lot of very interesting initiatives have been launched in its wake, which we would love to evaluate and give prizes to in the second call."
The names of the winners were announced today at a restricted ceremony, due to strict Covid-19 protocols, which was attended by the ten finalists, the panel judges, and the Foundation's deputy chairman and Managing Director of Sustainability, Reputation and Institutional Relations at Naturgy, Jordi Garcia Tabernero.
Ecodes: advice on reducing energy bills
Ecodes, based in Zaragoza, is an organisation that looks to build relationships with all social actors in creating a green, low-carbon, responsible and inclusive economy. The "No home without energy" project is a programme that works to fight against energy poverty. It has been running since 2013 in 950 cities and has helped more than 7,000 families.
This project, which has led to average savings of 25% on energy bills, provides personalised advice on lowering bills, learning responsible habits and putting home energy-efficiency measures in place, along with help in financing them. Information is transmitted to groups in a situation, or at risk, of energy poverty using various tools and channels, such as advice points, home visits, the website, on-line energy management tools, workshops and volunteer programmes.
The panel of judges deemed that the different activities which took place in their workshops, their in-home assessments, volunteers programmes and the information tools they designed and developed to help citizens save energy "are clear examples of the organisational capacity, goal-driven focus and inclusion of multiples actors that allow them to create solutions which run from the personal and local level to the community and global level."
Ecodes has more than 25 years of experience in the development field and has been a pioneer in terms of implementing measures to combat energy poverty by incorporating both ecological and social aspects into their vision of development for the disadvantaged.
Isadora Duncan: economic empowerment for families The Isadora Duncan Single-Parent Families Foundation, based in León, was awarded the runner-up prize for its "Family Finances and Energy Poverty Education" project, an initiative that has helped 2,600 families since 2011.
The initiative aims at boosting families' financial power and correct income management while promoting responsible investment, signing up, expenditure and consumption, and sustainable energy use. It has three hubs: financial and energy advice, education (Family Savings School) and dissemination (www.gestionfamiliar.es) using ICTs to spread the information all over the country.
According to the panel of judges, "it clearly demonstrates that innovative, structured, and focused work bears tangible fruits that help a large number of families on the road to finding solutions to energy vulnerability."
Since it was founded, the Isadora Duncan Foundation has launched innovative programmes that have yielded notable collaborations, thus demonstrating its ability to network and work as a team. Its work has earned it a position as a special consulting organisation for the United Nations Economic and Social Council (ECOSOC).
The second call for the prize is open
The second call for the Prize for Best Social Energy Initiative will be open starting tomorrow and submissions will be accepted until 31 March 2021. As in the first edition, the winning prize will be €60,000 and the runner-up prize will be €30,000.
This award has two aims: to raise the profile of outstanding individuals, entities and institutions in social sectors directly or indirectly tied to energy, and to help fund initiatives in this field to improve quality of life for the most vulnerable. Entries can be submitted through the Naturgy Foundation website (Premios Fundación Naturgy).
The members of the panel are: Alberto Núñez, S.J., Pastoral Service director and lecturer at the Comillas Pontifical University, who chairs the panel; Manuel Bretón, chair of the charity Cáritas Española; Llum Delàs, trustee of the Esperanza Foundation; Salvador García-Atance, Chairman of the Lealtad Foundation; Father Ángel García Rodríguez, Chairman of Mensajeros de la Paz (Messengers of Peace); Juan José López Burniol, Deputy Chairman of the 'la Caixa' Banking Foundation; Josep Ramoneda, Director of the European School of Humanities in Barcelona; Elena Salgado, Chair of the Spanish Consultancy Firms Association; Javier Senent, President of the Spanish Red Cross; Gustavo Suárez Pertierra, President of UNICEF Spanish Committee; the deputy chairman of the Naturgy Foundation, Jordi Garcia Tabernero, and its general manager, María Eugenia Coronado.
Naturgy Foundation
The Naturgy Foundation carries out all of the social programmes linked to Naturgy's Vulnerability Plan, the first of this kind to be developed by a Spanish energy company. The foundation carries out a variety of initiatives to combat energy poverty, including the Energy Rehabilitation Solidarity Fund to make vulnerable households more efficient, the Energy School to
improve energy habits and bill management, and Energy volunteering to advise families on energy-related matters. To date, over 110,000 people have benefited from our initiatives.