Thanks to this educational resource, the company employees can take their knowledge of the energy world to the schools of their children and relatives.
Since April, more than 49 company employees have taken these suitcases around Barcelona, Sant Cugat del Vallés, Madrid, Arroyomolinos, Montgat, El Boalo, Majadahonda, Cobisa and many other places. Designed by specialised educators, these 'Travelling suitcases' are adapted to the different educational levels and the current school curriculum. The suitcases contain turbines that turn on a bulb when water is poured on them, electric cars that move when they are close to a light, and other objects. This ensures an activity where the students learn about the different types of energy and acquire energy efficiency and saving habits through innovative and fun dynamics.
Naturgy employee Margarita B. has used them with Nursery and Primary School students at her daughters' school, and she told us that she "really enjoyed" the experience: "And what's better, the children and the teacher did too. I spoke to them about energy, its meaning, the different natural energy sources and how to transform it to generate power, for example, or heat."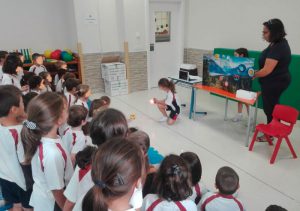 In fact, the school blog wrote: "A few days ago, the mother of a pair of children wanted to share an afternoon with us explaining different things about energy. By telling a fun story with characters such as 'Mojamoja', 'Eolo' and 'Solecito', we learned about different energy sources (hydraulic, wind, and solar power, respectively). Then, thanks to an application, we were able to see how the windmills we had coloured in that morning came to life and started moving their blades to produce energy, and therefore turn on a bulb. It was a very interesting afternoon! And all the children want to thank Marga a lot for giving us such a fun and entertaining time."
Another woman from the group, Cristina M., used the travelling suitcase in her daughter's primary school class. She explained: "The activity was a complete success. The children easily followed the activity and it was completely suited to their knowledge and skills. At the end, they all agreed that what they enjoyed most was watching how the water we poured from a bottle started a fan that was connected to it. The teachers also agreed that the activity was suitable for the children's level."
Similarly, José P., who works in LNG Quality went to his daughter's Nursery school class a few days ago. "It was a great experience; the children loved it and I had a great time. From the moment you walk into the classroom, they are all waiting to see what you are going to do with the suitcase. The teacher was very surprised by the quality of the content of the initiative."
You can find more information about this educational resource here.