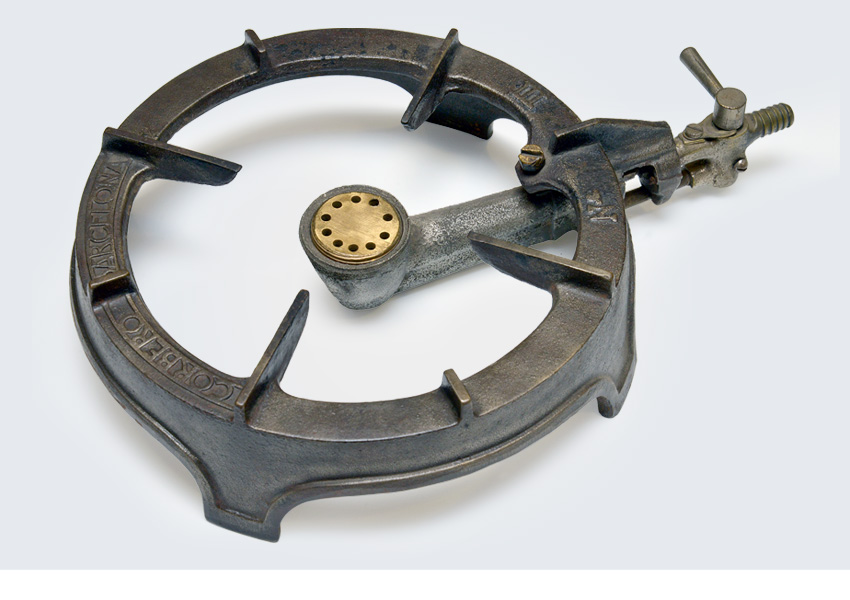 Stove nº III
Made in: Corberó
Die-cast iron and brass
1930
MG1830
Photograhy by Dani Rovira
© Museo del Gas de la Fundación Gas Natural Fenosa, 2017.
The Corberó number III stove is a model of gas appliance that started to be manufactured in Spain from 1930. Pere Corberó Trepat patented this popular model after researching with gas injectors and burners, and conducting over 300 tests in his father's workshop. The result was an original, easy-to-use appliance that the company mass produced and launched in the market at a very affordable price. The manufacturing of the appliance was designed to optimise the production costs. That is why the smelting of the central body, the brass burner and the shut-off valves, was carried out by three different manufacturers.
This gas appliance allowed the user to cook and heat food more quickly and safely than previous models. The appliance had an economiser and a device to control the access of air, as well as an interior cleaning system. As it was easy to use and affordable, this model of stove was very common in Spanish homes, making it an icon of modernity and comfort.