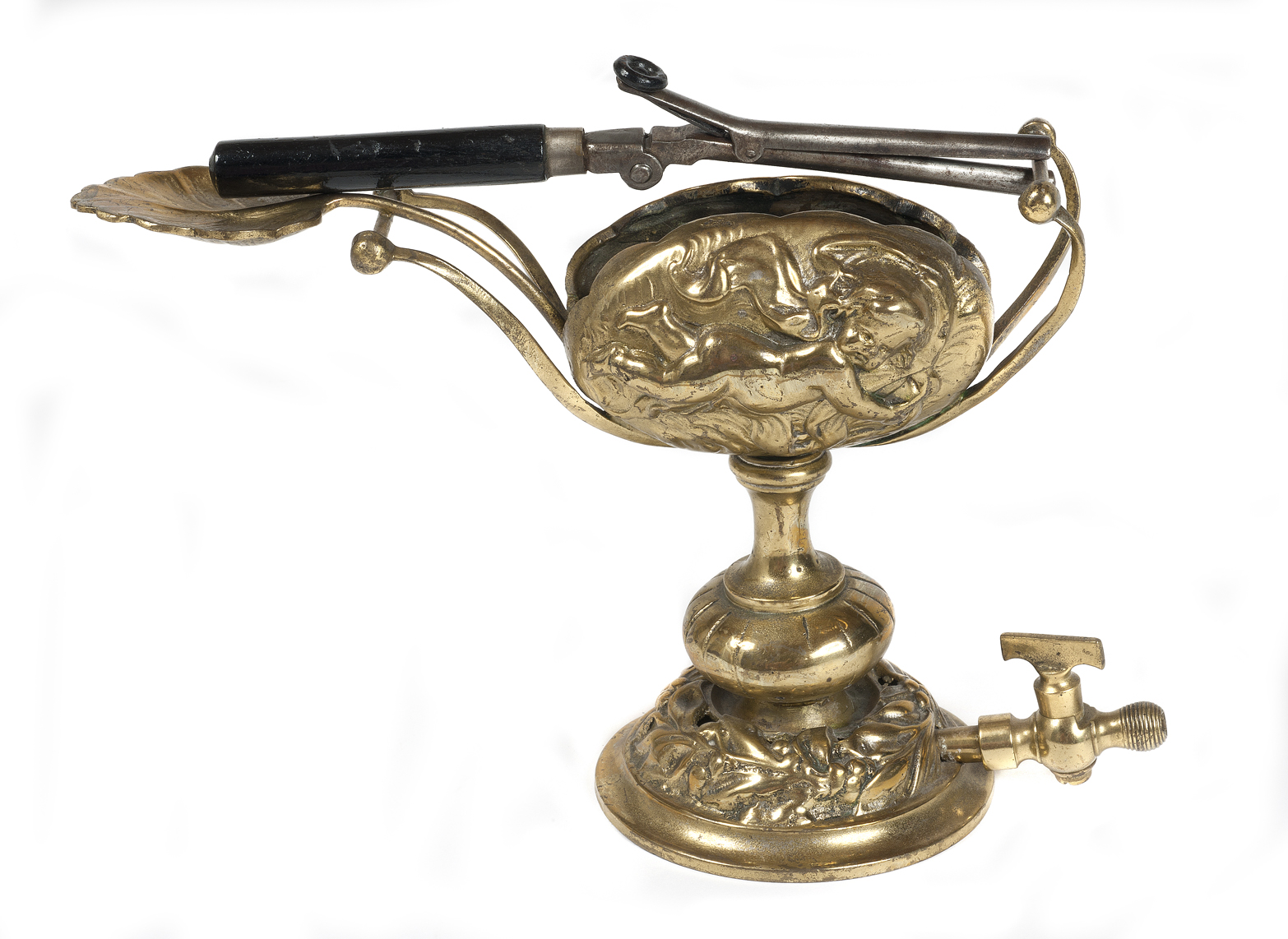 Chromed steel and brass for the base, enamel and iron for the pincers
Unknown manufacturer
First half of the XX Century
Photography: Rizador de pelo o bigote
Photographer: Dani Rovira
© Museo del Gas de la Fundación Naturgy, 2018
The fund of the Naturgy Foundation protects iconic gas appliances such as this hair curling tool. It is ingenious in two parts: on the one hand, the base that has a permanent flame thanks to gas, and on the other hand, the pegs or tongs that curl the hair to give it the desired effect. This tool became very popular in bourgeois households in Paris in the early 20th century, the period when the art nouveau movement emerged.
French hairdresser Marcel Grateau (1852-1936), known by his contemporaries as "le Roi" (the King), is credited with this invention. In 1882, this revolutionary of hair styling from the late 19th and early 20th century patented the "Ones Marcel", which marked the birth of modern hairdressing. Although there were already items that styled hair, the renowned hairdresser ingeniously improved the clamps as they could now control the volume of the curl that was desired. The secret of this technique, known as marcelling, was to maintain the clamps, and especially the tongs, at a stable temperature by using gas. The concave part at the bottom and the convex part at the top notably improved the clamp's connection with the hair and this notably improved the shape of the curls.
The curling iron that is preserved in the collection fulfilled two functions: it styled hair and added style to spaces such as a dressing table at home. The Naturgy Foundation collection of items preserves various objects such as this one, but none of them are as refined. At the base of the heater is a frieze with natural motifs, and theses are copied on the top part where the leaf-shaped piece holds the tongs. The central body contains a boy with a primitivist manner and sheer clothing. All these ornamental and decorative details on the gas appliance show that the iron was only accessible to the higher classes of society at the time.