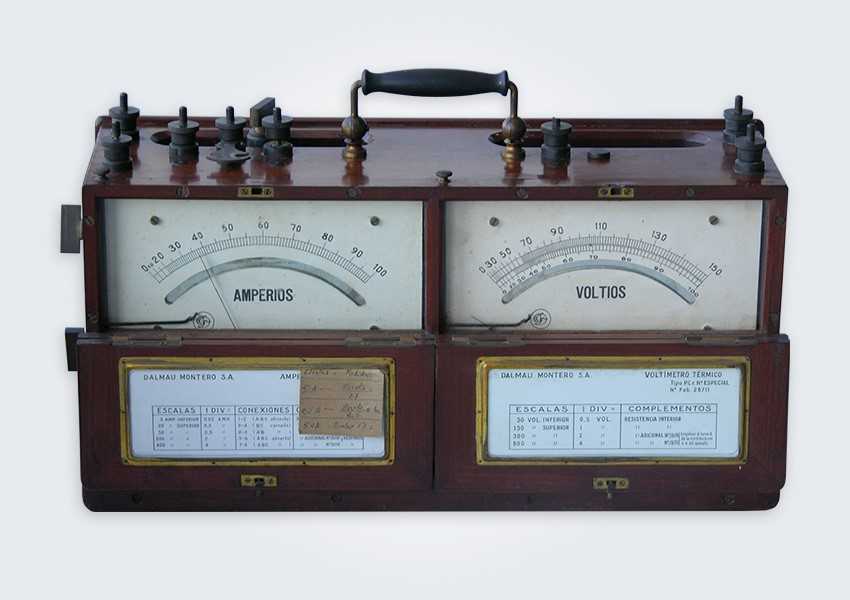 Double measuring device
Wood, iron and glass, among others
Made by: Dalmau Montero, S. A.
First half of the XX century
Photography: Aparato de medida doble Fotógrafo desconocido © Museo del Gas de la Fundación Gas Natural Fenosa, 2018
From the second decade of the 20th century, electricity was converted into a first-rate energy source and its growth was unstoppable, decisively affecting the mechanisation of the growing industry and featuring prominently in public street lighting in cities. This item preserved in the Gas Natural Fenosa Foundation Gas Museum collection is a multiple measuring device formed by an ammeter and a voltmeter. The two devices are essential for designing, repairing and maintaining electrical equipment. The ammeter controls the intensity of the current and the voltmeter measures the voltage in electrical circuits. The historical context previously described meant that it was important this artefact evolved. It was designed to regulate and activate new electrical technology by containing an ammeter and voltmeter in just one device, which made it easier to use this essential measuring device.
The double measuring device was constructed by the company Dalmau Montero, which specialised in manufacturing and repairing electricity measuring devices, and had its headquarters in Barcelona. In addition to this device, the prestigious company constructed precision tools for the fields of optics, physics, meteorology and technology. This family company, which dates back to the second half of the 19th century, was founded by Barcelona engineer Tomàs Dalmau, who maintained correspondence with Thomas Alva Edison.