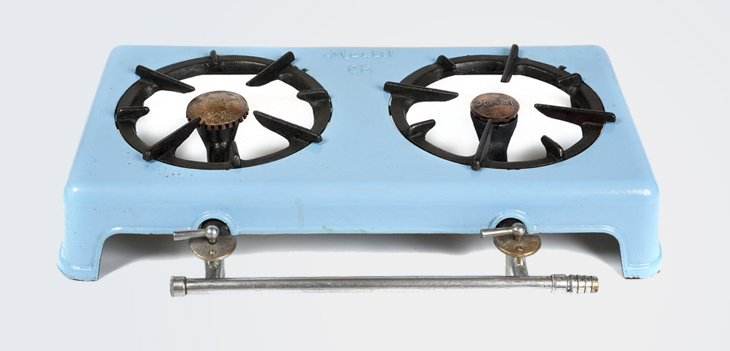 Maxbel. Modelo 95.
Enamelled steel
Dimensions 10 x 59 x 38 cm
1933
Museo del Gas de la Fundación Gas Natural Fenosa
MG 1906
This is one of the first double stoves on the market. It is a cooker with two open, extendible circular stoves. The type of burner is a simple pipe shape. It has two keys for the gas which enable the intensity of the flame to be adjusted to four types: minimum, medium, maximum and closed.
This particular model dates back to around 1933 and was introduced in homes as an alternative to coal and wood cookers.
The first stoves on the market had a small flame so they were used mainly to heat liquid or cook food slowly. When this type of stove, which had a more powerful flame that could be adjusted, hit the market, it meant food could be cooked more efficiently, more quickly and, most importantly, cleanly and simply. Gas was supplied directly from the shut-off valve, passing through channels and pipes to the cooker, which meant that people did not have to leave the house looking for wood or coal. Gas reached houses easily, cleanly and simply.
The development of these stoves would later be used in cookers with an oven included.
The evidence provided by this item shows that it was distributed and probably also manufactured by the Font y Compañía, S.A. company in Mataró. Different gas combustion tests were carried out on this model and others by the Catalana de Gas y Electricidad company.
This item has formed part of different travelling exhibitions so it also has a history as a museum item. In May 2015, it was displayed in the Gas Museum. Energy exhibition for the Gas Natural Fenosa Shareholders' General Meeting in the Barcelona Conference Centre. In December of the same year, it was part of the same exhibition in Zaragoza, but this time it was in the Central Headquarters of General Motors in Figueruelas (Zaragoza).Finally and most recently, it appeared in the Menús d'entreguerres, at the l'Espai Cultura, in early 2016. Fundació Sabadell 1859.