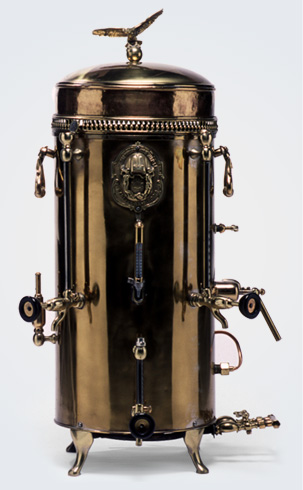 Made in Manufacturas Metálicas, S.A.
Model 7929
Copper and brass
c. 1900
Museo del Gas de la Fundación Gas Natural Fenosa
MG 1738
This item fulfilled its function of keeping coffee warm. It dates back to around 1900 and could have been found in a cafe like the 4 Gatos in Paris or Barcelona. This model, manufactured by Manufacturas Metálicas, S.A., kept the liquid inside, which came from its various taps, warm. Coffee, milk and water were kept warm by the continuous gas flame, which entered through two shut-off valves at the bottom. These two taps allowed the user to increase or decrease the temperature of the liquid, which was measured by the thermometer located in the centre.
The design appears simple at a glance, but it has several unique features. On the one hand, the top is adorned by an eagle with open wings. Its body was used as a handle to open the top and pour the liquid inside. On the other hand, the central body of the coffee machine contains the manufacturer's logo: the name surrounds two figures in outfits who appear to be playing a type of wind instrument. These are held by hand, symbolising the union between the two cities where the company has factories: Barcelona and Madrid.