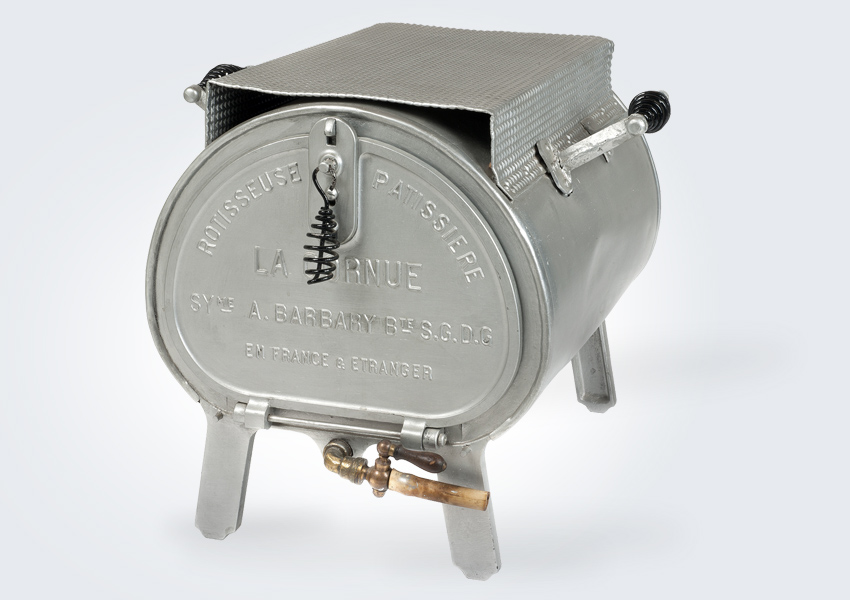 Gas oven "Le Cornue". Rôtisseuse/Pâtissière
Iron, brass, metal
Made by : La Cornue, Francia, 1908
c. 1920-1930
Photography: Horno de gas "Le Cornue"
Photographer Dani Rovira
© Museo del Gas de la Fundación Gas Natural Fenosa, 2018
The history of cooking is closely related to the technological evolution of food cooking equipment. The "Le Cornue" oven, which was invented and patented by Frenchman Albert Dupuy, was a true revolution in the cooking market.This genius' technological innovation, which is preserved in the gas appliances section of the Gas Natural Fenosa Foundation, had a round shape that made it stand out from the square ovens that had dominated the market until then. The first gas-fired oven allowed hot air to circulate naturally around the double chamber, which meant that the food was not in direct contact with the hot air and ensured it did not become dry while cooking. The equipment had several hot air entry and exit pipes, both at the top and at the bottom. This system meant slow-cooking was possible and the food was cooked evenly.