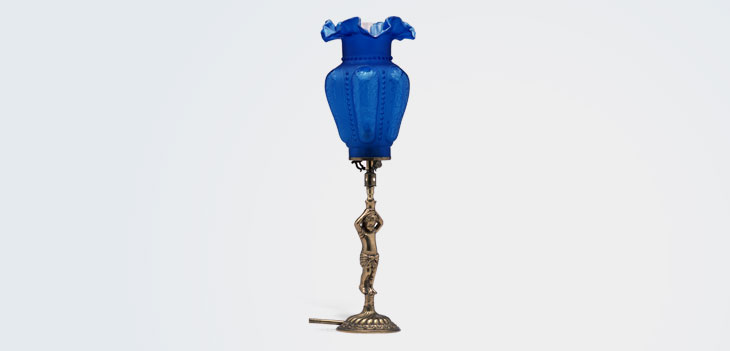 Colored glass and brass
Museo del Gas de la Fundación Gas Natural Fenosa
54 cm tall
Finals of s.XIX
LD.58 – MG 1171
This is undoubtedly an item with two functions. It is a gas table lamp, that, as well as providing light, is an exceptional artistic piece that decorates any setting. This item shows that lamps were were functional objects that really became ornamental design objects. The item has a unique design and was part of the "Publicidad para una historia. 170 años de compañía" Advertising for a history. 170 years of the company) temporary exhibition, which was open in San Luis in 2013.
The inventor of the gas lighting system was Englishman William Murdock, who was known as the father of the gas industry and who designed the first gas lamp in 1792.
The lamp has three parts: the upper part is a bulb shape made of cerulean blue glass; a mechanism that lit the flame; and a golden brass base decorated with a sculpture of a little boy holding up the upper part.
The lighting mechanism of the lamp has five parts:
A copper or brass tube connecting to the gas
A small opening at the base of the bulb to allow air in, which enhances the combustion.
A control valve for gases (gas and oxygen), which supplies gas and controls the intensity of the flame.
The burner
The support rod with a mantle impregnated with thorium and cerium oxide, also called an Auer mantle.
The Auer mantle is an essential element for the lamp to work. It was invented by Carl Auer von Welsbach (1885) and made lights more efficient. The mantel impregnated with thorium and cerium oxide was positioned close to the flame meaning the combustion of these products produced incandescence and increased the light intensity of the flame. The Auer mantle became popular in gas lights in the late 19th and early 20th centuries.

This type of lamp functioned simply. Through a tube at the bottom of the lamp, the gas reached the control valve, which allowed the gas to pass through to the mantel. The burner kept releasing gas and a match would light the upper part of the mantle to produce a flame and initiate the combustion. The mantle was initially red and then it would progressively turn white until it became incandescent.
The production of light from gas marked a significant turning point in the history of society.
One of the differences between the gas lamps and the old coal, oil and alcohol ones was that the new gas lamps needed a fixed connection point to the gas. This meant that furniture and organisation of homes changed, while this type of lamp developed and new types appeared for outside, on the wall and on the ceiling.