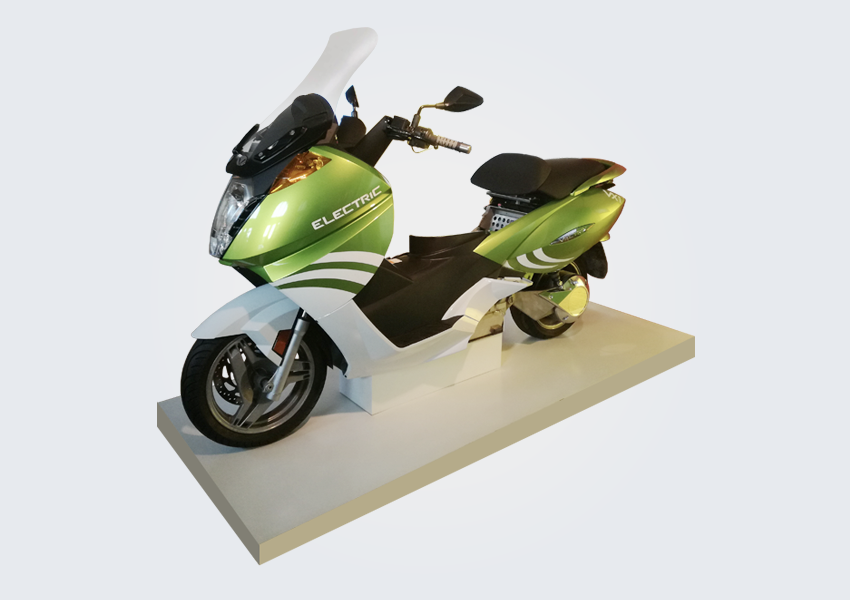 Distributed by Vectrix Electrics
Aluminum chasis and Ni-HM battery (nikel-metal hydride)
2010
Photography: Motocicleta eléctrica Vectrix VX1
Unknown photographer.
© Museo del Gas de la Fundación Gas Natural Fenosa, 2017.
The Energy of the future section at the Gas Natural Fenosa Foundation Gas Museum presents an example of the Vectrix VX1 scooter, a motorcycle that works with electric batteries.In the electric motor sector in Spain, these vehicles were pioneers in using new energy models in transport.
TheVetrix VX1 was the first high-performance electric megascooter to be distributed in the Spanish market. Its most notable features include the aerodynamic design and shape, but also its ability to reach a maximum speed of 110 km/h, autonomy of between 50 and 100 km and quick recharging. In contrast to petrol engines, the electric engines maintain the same power level over time, which is worth considering because the vehicle does not have a continuing decline.
Meanwhile, electric vehicles are a good alternative to encourage sustainable mobility: they reduce noise pollution and improve air quality because they do not emit any NOx, or particles. They also help to reverse the climate situation because they have no CO₂ emissions, either locally or at the point of consumption.
In the automotive market, the future trend predicts a consolidation of sustainable mobility with electric vehicles. It is, therefore, essential to develop the intelligent electric grids that will enable conventional power generation to be integrated with distributed renewable generation in order to meet the growing demand that is forecast. In addition, with the progress of new technology, the end consumer will have an active role when it comes to choosing the origin of the electricity they buy or generating their own electricity.