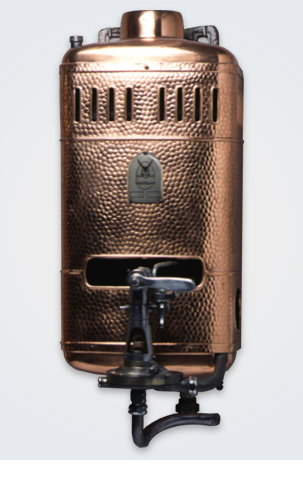 Calentador de agua
Made in: Vaillant
Copper and iron
c. 1906-1907
MG 148
Fotógrafo desconocido
© Museo del Gas de la Fundación Gas Natural Fenosa, 2017.
In the mid-19th century, gas started to be used to heat water for health uses. At the start, water heaters used combustion gas in a burner. But, during the process, the steam mixed with the water and dirty water came out. This was followed by more innovative creations that resolved this issue so the hot water came out clean for the consumer.
More types of heater were created until they managed to isolate the water circuit from the gas by using a coil. Since then, a large amount of water heaters have been cylindrical and located in the bathroom, very close to the bath. The cold water enters at the top and, while it is going down the coil, it is heated by the heat produced from the gas combustion in the burner located at the bottom.
Despite the general trend, rectangular-shaped heaters were also sold because it enabled them to be installed on a wall or in the corner of a house. There is an example of this in the collection: an item manufactured by Vaillant featuring a scaled copper casing.