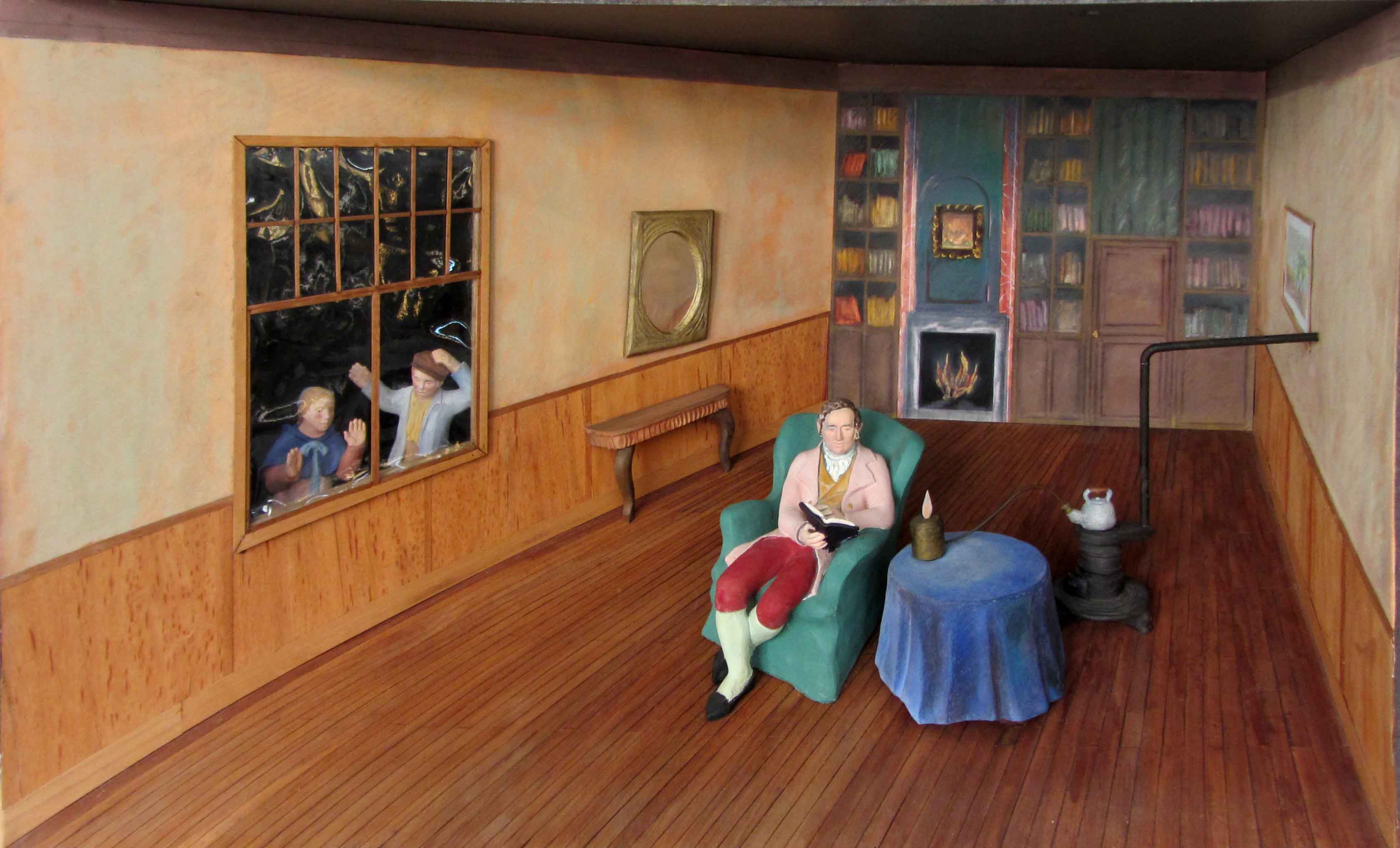 Diorama of wood, clay, gypsum, glass sheet and plastic. Polychromy with acrylic paint and pastel tones
Unknown creator
S. XX
© Naturgy Foundation, 2020
This piece, which is part of the Naturgy Foundation's collection, is a diorama that depicts the first experiment using gas to light homes.
This event took place in 1792 and the figure in the scene represents William Murdock, a Scottish engineer (1754–1839) who was one of the forefathers of gas lighting. The diorama shows Murdock sat relaxing in an armchair at his home in Redruth (England), taking pleasure in reading. Next to him is a metal container on top of a heater that, thanks to coal distillation, produces a flame that lights up one of the rooms in his home. In the background there are two children looking in through the window, admiring the view inside the house.
Lighting was a rarity at this time, and any lights used oil or a similar fuel. Daily activities depended on the sun and, generally, people's work and social lives ended when it got dark. William Murdock was an engineer at the firm Boulton & Watt, one of the first engineering firms specialised in the design and manufacturing of steam engines. As fate would have it, in this company Murdock coincided with Samuel Clegg, who would invent one of the many gas meters that emerged in subsequent years with the development of this technology.
The industrial applications of lighting were mainly in textile factories. In this way working hours could be extended, thereby increasing production. The mix of a new and innovative technology with the determination and creation of its forefathers provoked an undeniable change in society towards increased well-being and evolution.
Bibliography:
Alayo, Joan Carles; Barca, Francesc X. La tecnología el gas a través de su historia. Barcelona: Fundación Gas Natural Fenosa; LID, 2011. Historia del gas; 6.
Fàbregas, Pere A. Naturgy: 175 años de compromiso con la energía y la sociedad. Barcelona: Editorial Planeta, 2018.